Note the following before contacting us:
The owners of this website are not able to provide appraisals of any artwork.
For permission to use the Trail of Tears image contact the Woolaroc Museum.
For other paintings owned by a museum or other organization please contact the museum or organization to request permission to use an image.
All images, text and other material on this web site, unless otherwise specified, are copyright Christina Millard Smith and Robert Lindneux Millard Jr. and may not be used without permission.
Please contact us if:
You have questions related to information on this web site.
You have questions about Robert Lindneux or his life.
You have a painting or reproduction of Lindneux's and have questions about the subject or history of the painting. Again we can NOT provide appraisals; however, we may be able share with you some interesting facts about the history and creation of the painting directly from Lindneux's archive. We are also cataloging any new paintings we identify by Lindneux as part of our research related to the Memoir of Robert Lindneux.
You have questions about the Memoir of Robert Lindneux project.
You have information related to Robert Lindneux that may assist us in our research, such as you or a family member knew or met Lindneux or you have any other information that may assist us.
You wish to use an image owned by us for research, educational purposes, or in an educational article or research paper.
---
Please fill out this form to contact us:
We are also on Facebook.
---
This web site is lovingly dedicated to the memory of Gertrude and Robert Lindneux and their devoted and cherished daughter Marcella
---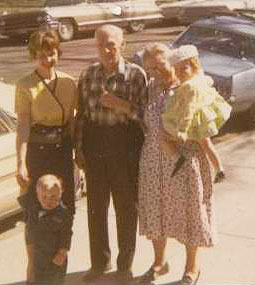 This web site was built by Christina Smith (great-granddaughter) with design input from Mrs. Robert Lindneux Millard Sr. (granddaughter-in-law) and Robert Lindneux Millard Jr. (great-grandson).
The photo includes the creators of this web site with Robert and Gertrude Lindneux, Easter 1967 in Denver, Colorado.
Thank you for visiting our web site!