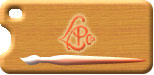 The History of the Lindneux Art Publishing Co.
Many of the questions we receive from visitors to this web site are about reproductions of Lindneux paintings and most of these were printed by the Lindneux Art Publishing Co. Since this is an area of interest for those who admire Lindneux's work we have gathered the information that we have from Lindneux's memoir and his correspondence into a brief history about the Lindneux Art Publishing Co.
Important Note:
Our area of expertise is the history of Robert Lindneux's life; we are not art appraisers and cannot provide values for any reproduction or painting. We can only share the advice that Lindneux himself would often state: "A painting (or vintage reproduction) is only worth what you can get for it." The other thing to keep in mind is location, certain genres of art sell better in certain parts of the country than others.
Another piece of advice: art work must be inspected and evaluated in person. Photos sent via email are not enough to properly determine if what you have is an original oil painting, (it could be on canvas or art board) or, a lithograph on canvas or art board, or a printed reproduction, (note that some art printing is done on textured paper that can almost look like canvas.) Our best recommendation is to do your homework and research the appraisers in your area; always ask for references making sure to contact the references.
History of the Lindneux Art Publishing Company: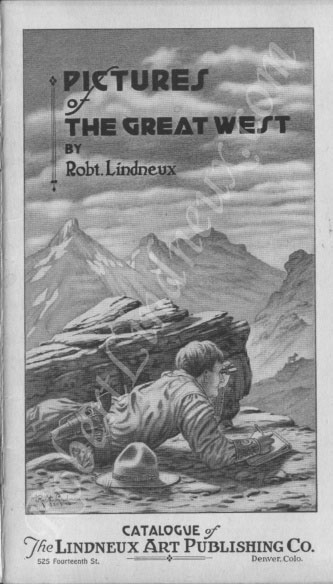 When Robert Lindneux and his wife Gertrude first moved to Denver, Colorado in 1918 Lindneux had already developed a reputation as a fine western artist and there was a considerable call for reproductions of his work since people could not pay the price of an original painting. Lindneux would have photographs of his paintings enlarged and then would color them by hand with photo oil colors. The process of coloring each of these enlarged photographs by hand consumed a great deal of his time, which Lindneux had to balance with the time he needed to continue work on other original paintings.
In 1921 Lindneux printed his first catalog of these reproductions entitled, "Pictures of The Great West by Robt. Lindneux". The little booklet was 5-13/16 inches high, 3-7/16 inches wide in size and had 20 pages. The inside cover read, "Pictures of the Great West – A tribute to its animal life and scenic beauties from the brush of the sportsman artist Robert Lindneux – Copyrighted 1921 by Robert Lindneux, Denver, Colorado." In the back of this catalog Walter H. Carson is listed as the Sales & Advertising Manager for The Lindneux Studios on E. Colfax, Denver Colo.
The Foreword of this catalog mentions the fact that by this point in time Lindneux had in his employ colorists who would assist him with the work of colorizing the enlarged photographs. Even with the help of his colorists Lindneux still found it difficult to keep up with the demand.
In 1922 after Lindneux had completed work on the life-sized portrait of Buffalo Bill on his white horse Isham, Lindneux met Charles LaPointe, Manager of the Colorado Engraving Company. LaPointe proposed that Lindneux should have his paintings reproduced by a four-color process thus relieving Lindneux of much of the hand work, not to mention aggravation when his colorists did not produce work to Lindneux's satisfaction. Robert and Gertrude discussed the idea and soon decided to proceed with the plan. So in 1922 "The Lindneux Art Publishing Company" was created as a branch of the Colorado Engraving Company. Robert Lindneux was elected the President; Mr. Samuel S. Sherman was elected Vice President, (Sherman was also the Editor in Chief of the Rocky Mountain News of Denver, Colorado) and Mr. Charles LaPointe was appointed the Secretary and Treasurer.
In 1923 a new catalog was published entitled, "Pictures of The Great West by Robt. Lindneux – Catalog of The Lindneux Art Publishing Co., … Fourteenth St. Denver, Colo." This catalog is 7-13/16 inches high by 4-5/8 inches wide and had 32 pages.
Despite Lindneux's earlier success with his reproductions it appears that the Lindneux Art Publishing Company was never quite able to fulfill the hopes and expectations it began with. Based on various correspondences we have, it appears that by 1930 the association with the Colorado Engraving Company had ended.
If you own one of these reproductions (or even one of the original paintings) and would like the text of the description of the image from the catalog send us an email describing the painting, or the name from the list below, and we will email you the text of the description and any other information we have. Below is a list of the images found in these two catalogs:
The 1921 Lindneux Art Publishing Co. catalog:
Timber Wolf
Pronghorn Antelope
Coyote
A fight to the finish (A man fighting with a bear)
Black Bear and Cubs
The Silvertip Grizzly
Sheep Lake, Estes Park
The Tawny Killer (A mountain lion stalking two deer)
Bull Moose
Mule Deer
The Ranchers Serenade (coyotes howling on a cliff top overlooking a ranch)
Hooked – Rainbow Trout
The Foster Mother (horse and baby burro looking out a stable window)
Western Sage (landscape)
Old Timers (landscape of windblown trees near timberline)
The 1923 Lindneux Art Publishing Co. catalog:
Western Pep (a cowboy riding a bucking bronco)
Portrait of Buffalo Bill
Lake Mills
Bull Moose
A Fight to the Finish (see above)
Black Bear and Cubs
Buffalo Bill on Horseback
The Foster Mother (see above)
The Proud Mother (mother and baby horse looking out a stable window)
An Unwelcome visitor (a mountain lion on top of an old stone cabin)
His First Trophy (Father and son carrying the head of a bull moose)
Mule Deer
The Tawny Killer (see above)
Hooked
The Ranchers' Serenade (see above)
Timber Wolfe
The Coyote
Western Sage
Old Timers
A Critical Moment
The Silvertip Grizzly
Pronghorn Antelope
The Challenge (Bull elk bugling)
Rolling A Pill (A cowboy rolling a cigarette)
The Night Herder
Sheep Lake, Estes Park
Bang! Bang! (Hunters shooting ducks)
The Dude Wrangler (Man on an outcropping of rocks, second man handing him a gun)
A Coyote Hunter
Odessa Lake
The Lure of the Prairie (pack train of horses making its way across the Wyoming prairie)