Robert Lindneux and his paintings at the

Lookout Mountain, Golden, Colorado
An iconic example of Lindneux art at the Buffalo Bill Museum and Grave is the life size portrait of Buffalo Bill on his favorite horse Isham that was completed in 1922. The image below is used with permission from the Buffalo Bill Museum and Grave located at the top of Lookout Mountain near Denver, Colorado.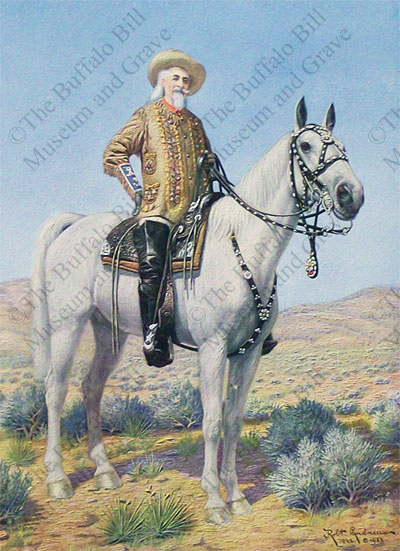 This representation cannot do justice to the actual painting which is eight feet by ten feet in size. The description below was compiled from various documents in Lindneux's files:
William F. Cody, "Buffalo Bill", was probably the most admired of all the picturesque figures of the early West. Robert Lindneux was inspired by the Buffalo Bill Wild West Show to paint the American West. Lindneux had the privilege of meeting the old scout in person and did various color studies and paintings of Cody and his horse Isham. Little did Lindneux dream that he would be selected from many other nationally known artists, to paint this famous equestrian portrait for a reported commission of $10,000.
In this portrayal Cody is wearing the famous costume and seated in the silver mounted saddle in which thousands of people throughout the world have seen him. The famous shell bridle was presented to Cody by the Prince of Wales, (afterwards King Edward the 7th.) Cody's outfit including the saddle and bridle are all on display at the Buffalo Bill Museum and Grave. The landscape in this painting is west of Cody, Wyoming, an area the Colonel always loved, especially at the end of spring when everything is green and bathed in sunshine.
Anyone who would like to learn more about the history of the Buffalo Bill Wild West show and the life of William F. Cody should visit this museum. In addition to the museum and the grave site, the observation deck provides an exceptional view of the Rocky Mountain Front Range and the Colorado Great Plains. There are also picnic grounds and opportunities for hiking.
This museum is a beloved family destination, and we hope it will become so for you too. The Directions to this museum and more information can be found at their web site. For those who don't mind a two lane paved road with several hairpin curves, and sharing the road with a few bicyclists, we do recommend taking the route up the face of Look Out Mountain on Lariat Loop Historic Byway. This route is truly its own little mini adventure with some wonderful Colorado scenery.